Finally, there is a place that combines the indulgence and ambiance of a nail salon with the hygienic principles of a medical clinic.
Performed by a podiatrist, our Medical Pedicures are the ultimate in luxurious salon styled foot care for women AND men, for both healthy feet and those in need of a little extra care and attention. We offer safe nail care, intense
moisturising skin treatments and skin care solutions for your feet including the safe removal of hard skin, corns and callus, cracked heels all with the
pampering of a 'pedicure'.
Unlike standard "nail bar' pedicures, our treatments are suitable for people who may have Diabetes or other high risk foot problems.
Your Initial Consult:
During your initial consult your Podiatrist will take the time to find out about your current medical history and obtain details of any medication that you are currently taking. Once we have managed this we will assess the condition of your feet and will discuss any concerns you may have and develop an management/treatment plan. This is then complemented by the Medical Pedicure.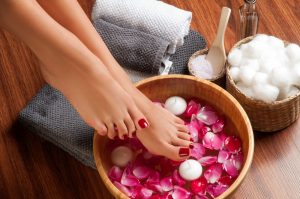 Our Medical Pedicure is a luxurious treatment which is performed in a sterile clinic environment.  It includes a warm water foot soak, exfoliation treatment, hot towel treatment, professionally trimmed nails and callus removal (or whatever may be needed) with a specialised moisturising treatment for feet and a foot massage. To complete the treatment for the ladies we including nail painting using our special nail polishes that moisture and nourish the nails, increasing nail strength and protecting against splitting. This is much more than nail polish!
If you have private health care and are covered for Podiatry you can even claim for your treatment using our onsite HICAPS facility.
http://coastalpodiatry.com.au/medical-pedicure/